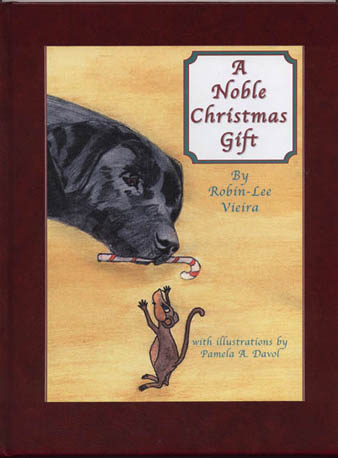 The reviews are starting to come in...
"...totally fantastic and does show what the true meaning of christmas is all about... I just love it!"
- Norma W.
"...charming and I love it!"
- Sue W.
"...rec'd both of my copies of A Noble Christmas Gift, yesterday...They are just beautiful !!! I enjoyed reading the story right away."
- Gail P.
View article in Roger Williams Medical Center Employee Newsletter

A Noble Christmas Gift
by Robin-Lee Vieira
Illustrated by Pamela A. Davol
Published by Ahnoren Press, USA, 2001.
An illustrated children's story about three little mice, homeless and cold, on a snowy Christmas Eve who discover the true meaning of Christmas-giving through the gentle kindness of an old, black Labrador Retriever named Noble.
Available Editions:
1) Numbered, Signed Collector's First Edition