Wing-N-Wave Rainbo in the Dark - "Dia" (Whelped 1/27/95)
(Ch. Snowden Hill's Goodtime Charlie X Wing-N-Wave Rogue)
Bred by: P.A. Davol
Owned by: Pamela Davol
Wampanoag Kennel Club Photo by C. Tatham (Copyright 1998)
Though I had not planned to keep a puppy out of Rogue's second litter, when Rogue delivered a single black female in a litter of 6 puppies, for the second time, I took it as my destiny to keep her. Also known as "my shadow", Dia is extremely loyal and loving. Additionally, she is a superb retriever and water dog, exhibiting both working drive and style. Weighing in at about 75 pounds, Dia is a substantial and typey bitch. She whelped her first litter in August of 1997 and now we "moms" are returning to the show ring together. Dia is pictured here taking the Open Black Bitch Class at Wampanoag.

Dia at 8 Weeks
Photo by MotoPhoto (Copyright 1995)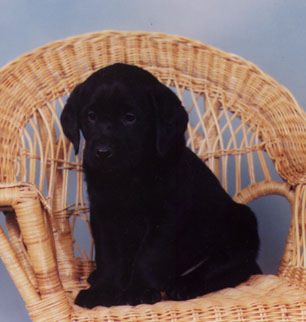 Name Origin: "Rainbow in the Dark" is a song by Ronnie James Dio. The name "Dia" (Dee-ah) was derived by replacing the "o" in Dio with an "a" for a feminine form of the name.
---
Rainbow in the Dark
When there's lightning - it always bring me down
Cause it's free and I see that it's me
Who's lost and never found
I cry for magic - I feel it dancing in the light
But it was cold - I lost my hold
To the shadows of the night


There's no sign of the morning coming
You've been left on your own
Like a Rainbow in the Dark


Do your demons - do they ever let you go
When you've tried - do they hide -deep inside
Is it someone that you know
You're a picture - just an image caught in time
We're a lie - you and I
We're words without a rhyme


There's no sign of the morning coming
You've been left on your own
Like a Rainbow in the Dark


When there's lightning - it always brings me down
Cause it's free and I see that it's me
Who's lost and never found
Feel the magic -feel it dancing in the air
But it's fear - and you'll hear
It calling you beware


There's no sign of the morning coming
There's no sight of the day
You've been left on your own
Like a Rainbow in the Dark


Lyrics and Melody written by Ronnie James Dio/copyright 1993
---
'Copyright 1996 Pamela A. Davol'