Folklaur Horizon Caleb(of Wing-N-Wave)- "Caleb" (Whelped 7/18/86)
(Am.Can.Ch. Huntsdown Valleywood Spice X Ch. Folklaur Pandora)
Bred by: J and M.B. Fastiggi and L. Dedering
Owned by: M. Purcell and Pamela Davol
Hunting Woodduck, Too Photo by P. Davol (Copyright 1988)
Caleb was my first puppy purchased with the intention of showing. His mother caught my attention at the 1986 Labrador Retriever Club of Central Connecticut's Specialty Show. She took Winner's Bitch that day. Little did I know at that time, she was in whelp for a litter from which I would come to acquire Caleb. From some of the finest show bloodlines, Northwood, Finchingfield, Huntsdown, and Ballyduff, Caleb was a beautiful puppy. He was trained in obedience and hunting. Unfortunately, while training, Caleb ruptured his cruciate ligament. Subsequent knee surgery to repair the injury did not return his gait to normal and, therefore, he could not be shown.

Caleb's bloodlines are behind all the Labs produced at Wing-N-Wave. To learn more about one branch of Wing-N-Wave's roots of origin, visit Folklaur Labradors.

Nap Time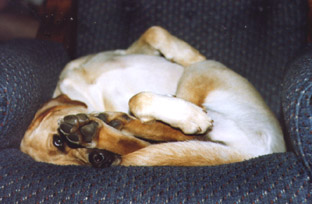 Name Origin: I originally intended to use the name "Excalibur", however, because of the AKC letter limitation the name was abbreviated to "Caleb." Interestingly, I later learned that the name "Caleb" is Hebrew for "dog" and that the name symbolizes loyalty.
---
'Copyright 1996, 1998 Pamela A. Davol'